Faculty of Science, KKU, joins Internet Co. Ltd., Siam Chamnankit Co. Ltd., Software and Innovation Trading Association to design new graduate program based on research and innovation
         July 17, 2019 at 08:30-10:30 a.m. – Khon Kaen University signed MOU with Internet Co. Ltd., Siam Chamnankit Co. Ltd., Northeast Software and Innovation Trading Association. Assoc. Prof. Charnchai Panthongviriyakul, Acting President of Khon Kaen University and Asst. Prof. Dr. Somkiat Srijaranai, Dean of Faculty of Science signed for KKU; Mrs. Morakot Kulthamyothin, General Manager of Thailand Internet Co.Ltd. signed for Internet Public Company; Mr. Prathan Dansakuljaroenkit, General Manager, signed for Siam Chamnankit Co. Ltd., and Mr. Channarong Buristrakoon, President of Software and Innovation Trading Association Northeast signed for the association which took place at Sarasin Room, Sirikunakorn Building, Khon Kaen University.
         Asst. Prof. Dr. Somkiat Srijaranai, Dean of Faculty of Science reported the background of the MOU, "This MOU is signed owing to Department of Computer Science's wish to change the instructional process to prepare graduates that have knowledge, skills, and capabilities that match the need of the business sector and digital industry of Thailand. The government has come up with the idea to develop a new generation of graduates, and at the same time, our university by the President has laid the strategy of education transformation under the research university development mission to create and develop innovations. From the external side, entrepreneurs from the 3 organizations used to join the faculty in the computer science, information technology, and geological information science programs by providing short-course training, practicum, and cooperative education. These have led to the MOU signing today. The MOU lasts 5 years from today."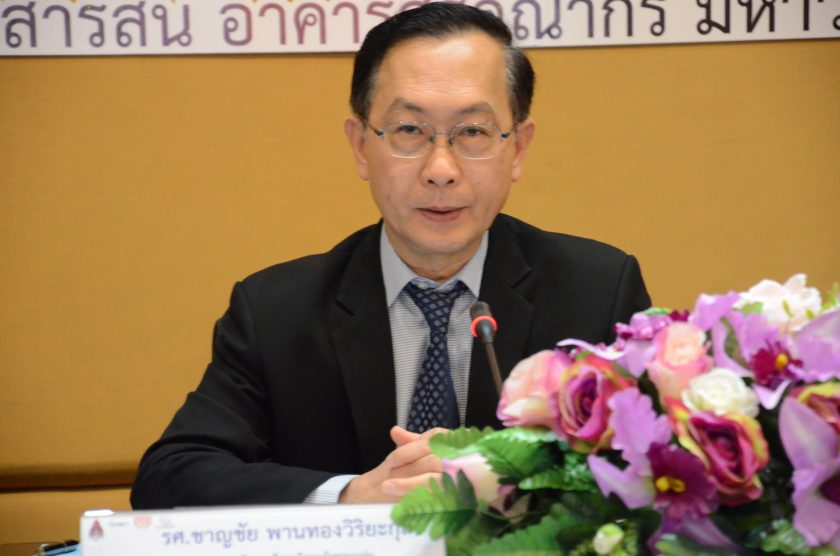 Assoc. Prof. Charnchai Panthongviriyakul, Acting President of Khon Kaen University said, "The government has set the direction for development of Thailand 4.0 model under the sufficiency economy philosophy. This comprises 5 agenda, namely: prepare Thai 4.0 to be ready to step out to the world; development of future technological and industrial cluster; incubation of entrepreneurs and development of innovation-driven enterprises; strengthening of national economy; and integration of ASEAN to connect Thailand to the world community. Khon Kaen University therefore uses this Ministry's strategy as the conceptual framework in KKU strategic planning together with the government's policy. The university's major mission is to support research work and innovations that respond to the country's economic development, development of basic knowledge, support of instruction that leads to internationalization / cooperative education, and entrepreneurs. Graduates will be prepared to work at the international level and Thailand 4.0. The university will support utilization of knowledge from research work to improve communities, bringing advances to them while solving the social gaps."
         "For the policy related to organization management, value building, organizational culture building, personnel should be encouraged to dedicate to their work, follow good governance and create work outcomes so that the university will attain the vision and goals as an international leading research university. There will be systems for information management, human resource management, financial and budgeting system, and development of staff capacities for Thailand 4.0 and internationalization. The university's strategic administration will be answered as an educational institution that produces qualified personnel for national development. Meanwhile, the university is part of the community. Therefore, the university's vision comprises self-development towards being a learning university, a leading research university with good governance, a quality university and a university of the community. These can be achieved through the changes of instructional processes that will make graduates possess the required knowledge, skills and abilities," said the President.
         This MOU is effective for 5 years. It contains the framework and collaborative approaches for provision of training, knowledge transfer, technologies for business application, digital industry and joint activities by lecturers, students, entrepreneurs and officers in the network companies. There will be research conducted and digital innovations developed together with other activities deemed suitable. The directing board comprises related officers from the organizations. If there is any benefit from the cooperation such as publication of work outcomes, rights over intellectual properties or other incomes, the committee will make decision on it.
         Faculty of Sciences' instruction both undergraduate and graduate levels in computer science, information technology, and geological information has been offered for over 2 years by inviting experts to give special lectures, run short and long courses, arranging practicum and cooperative education. Joint research work has also been carried out, and a lot of graduates are accepted to work in the collaborating organizations. All of this led to academic collaboration and hence the MOU signing today. The instruction will from now on changed so that the graduates will be able to use accurate knowledge and skills in their work in business and digital industry of Thailand.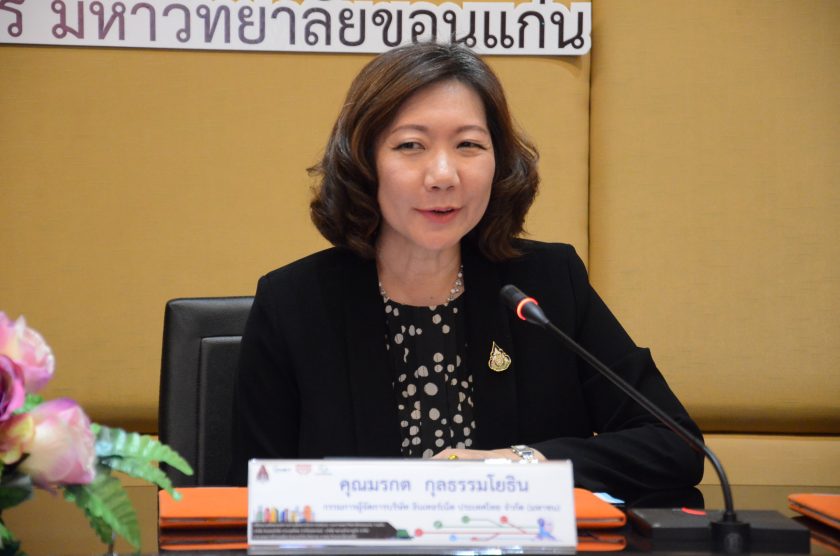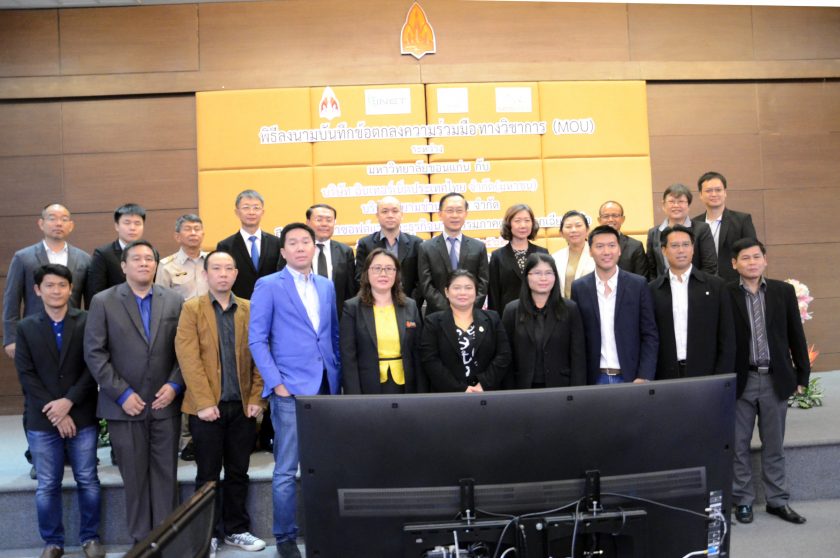 News / Photos: Wachara Noichompoo