Architecture students majoring in design used Khon Kaen identity to design patterns on Harley-Davidson shirt which will be sold worldwide 
           Congratulations to Architecture students of KKU! Mr. Sukrit Namwiset the winner, Miss Tanaporn Saithanu, the first runner up and Miss Chalisa Nonthakhup, the second runner up. The 3 students are 3rd year students from Department of Design, majoring in graphic and multimedia design who joined the Poise Harley-Davidson shirt design. The award presentation was held on July 5, 2019 at 10:30 a.m. Asst. Prof. Dr. Surakan Ruaysungnern, Head of Department of Architecture, Urban Planning and Design joined the ceremony with the students at Poise Harley-Davidson Showroom, Village No. 9, Srichan Road, Phralap Sub-district, Muang District, Khon Kaen. 
        Mr. Sukrit Namwiset explained his design concept – He wanted to integrate the modernity that conveys the colorful and interesting characteristics of adolescents Khon Kaen identity that we are familiar with to make a distinguished identity with the outstanding brand of Harlay Davidson. "I want to create something new and different that can be reached by people of all ages. I used bright and gaudy color tone to convey colorful life and fun riding. The colors fit all genders but more matching women's taste and those who like graphic style.
          Poise Harley-Davidson shirt design is part of the course AR025202 Drawing&Illustration design 2561 aiming for students to practice in real situation and train in presenting their work rather than learning in classroom only. Asst. Prof. Dr. Surakan Ruaysungneirn thanked Poise Harley-Davidson for opening up a chance for the students who are the first batch of the new curriculum in design. The former curriculum was industrial design which accented mass design products. Now, it emphasizes broader design and students have to learn more. So it is a good chance for students to train in real situations and have a chance to win a prize too from presentation. 
         Khun Bandit Khamsing, Marketing Manager said that the works of the students will belong to Poise Harley-Davidson, Khon Kaen. The design demonstrates Khon Kaen identity which appears on the back of Poise Harley-Davidson shirt. The company will check and modify the design to directly meet the patent characteristics of Poise Harley-Davidson and the regulations of Harley-Davidson before real manufacturing. The shirt is under the Harley-Davidson industry and will be available in the market soon.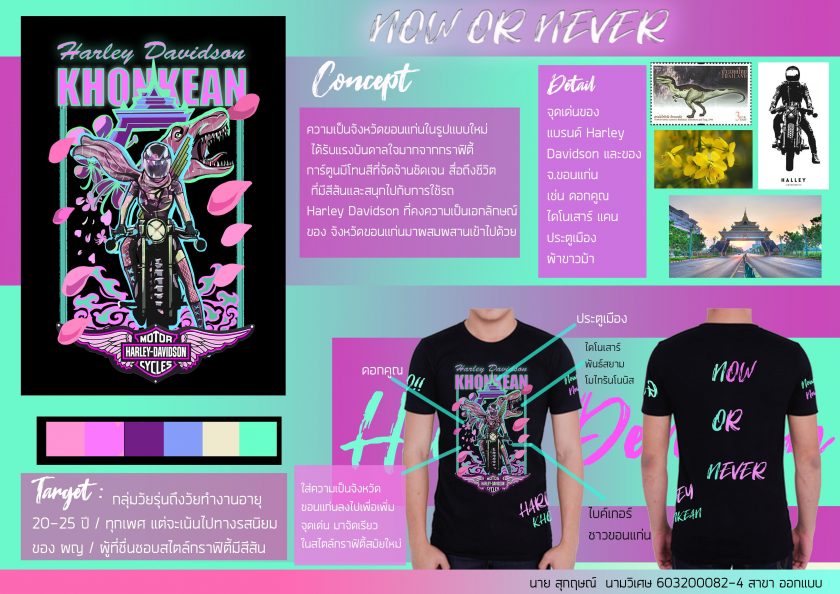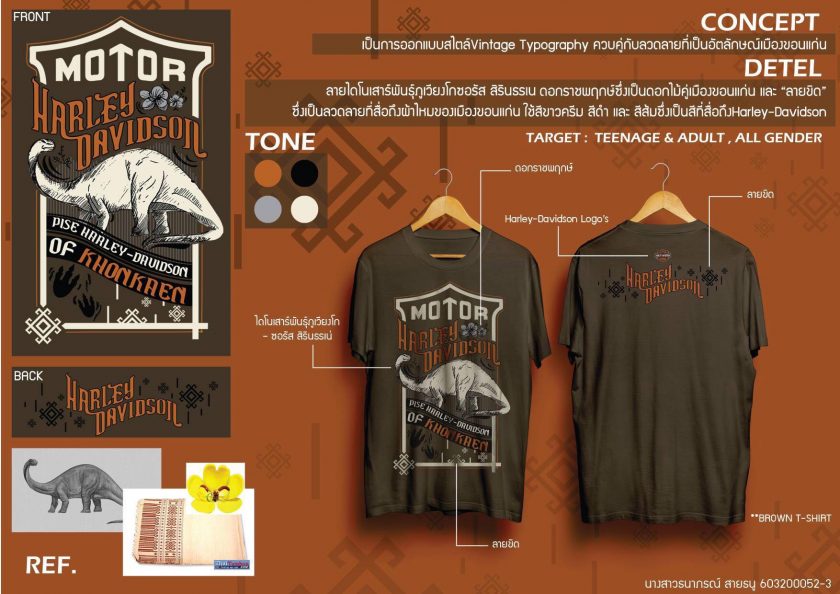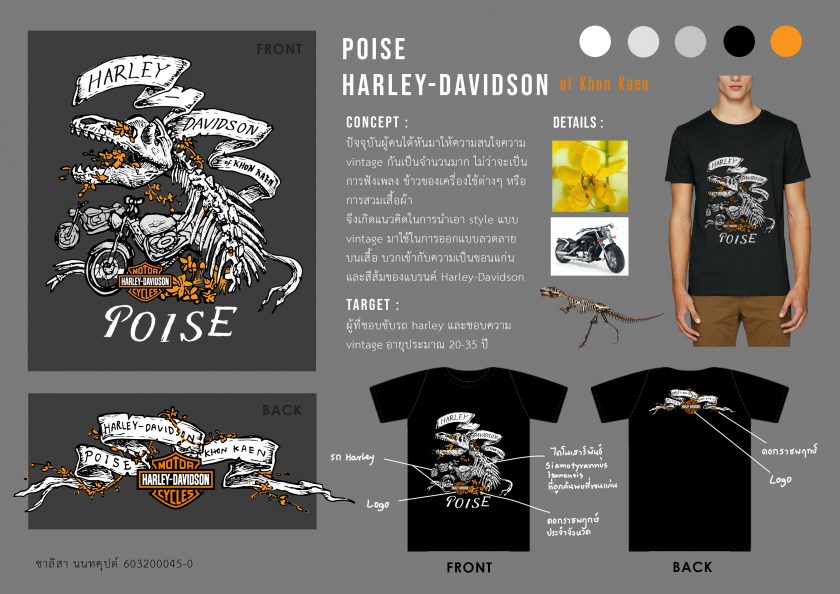 News / Photos: Kannapas Sirikiat