Assoc. Prof. Dr. Kittichai Triratanasirichai and his 8 years of KKU presidency that led KKU to be one within the world's 101-200 ranks, ASEAN's 3-9, and the first in Thailand
"8 years of Khon Kaen University's progress could not of course have been achieved by myself alone. It is the success of everyone who did not only contribute but also share the same propelling directions…. The "Honorary Administrator" award is the most surprising prize of my life and the first prize I receive from Khon Kaen University.

Assoc. Prof. Dr. Kittichai Triratanasirichai
Assoc. Prof. Dr. Kittichai Triratanasirichai was a freshman and one in the 11th class of Engineering students of Khon Kaen University who began his academic journey here on June 11, 1974. Assoc. Prof. Dr. Kittichai was a student with an outstandingly good behavior until he was granted an award from the Supreme Patriach at that time. Assoc. Prof. Kittichai was graduated in mechanical engineering, receiving his bachelor's degree in 1978 and was recruited as a lecturer of Khon Kaen University in the same year. He continued his studies at the Asian Institute of Technology, receiving Master of Engineering (Agricultural Machinery) degree and at Niigata University, Japan, receiving Doctor of Philosophy (Machine Design and Manufacturing) degree. He was retired at the age of 63 under the associate professorship position Level 9.
As a person who loves learning, he acquired knowledge from all experts who taught him, joined out-of-class activities until he well understood what "social responsibilities" are, especially from a weir camp carried out by engineering students. This was the time he was proud of since it incubated him towards Khon Kaen University's goal: "Social Devotion" during his presidency office. The 10th Khon Kaen University President was the first KKU alumnus to take this position!
During the 2 consecutive presidency terms, Assoc. Prof. Dr. Kittichai Triratanasirichai led the administrative team in a lot of changes and in many dimensions. He set the goal of the university in his first term to become a world-class research university and in the second term, to create a smart campus, development towards the digital age under the concept: "Digital Technology for Excellent Academy". The goals were translated into strategies for excellence administration. Thus, Khon Kaen University was awarded a lot of prizes, for instance, IP Champion Award for an organization with outstanding intellectual property management, Excellence Award for Cooperative Education, Integrity and Transparency Award for Governmental Agencies, Thailand Quality Class or TQC Award. Moreover, the Time Higher Education (THE) just announced The Social Impact Ranking 2019 in which Khon Kaen University ranks within the world's 101-200 and the first in Thailand.
Assoc. Prof. Charnchai Panthingviriyakul MD, President of KKU said, "Khon Kaen University organizes the "Appreciation and Congratulations" event every year to present honorable prizes and awards to deans, directors of institutes, lecturers, and staff members with outstanding accomplishments. The "Honorary Administrator" award this year is a new and special prize. It comes under the concept to award KKU staff who has brought reputation and a lot of benefits to Khon Kaen University. The prize is specifically granted only to a person with good qualifications and appropriate work outcomes. We have considered the work during the past 8 years of Assoc. Prof. Dr. Kittichai Triratanasirichai, who led the university in a number of developmental works, making the university accepted from our various outstanding products and outcomes. The university received a lot of awards for qualities, social devotion and has been ranked under Time Higher Education as the first in Thailand. The roles of the former President have driven Khon Kaen University to achieve this success. Therefore, we on behalf of Khon Kaen University deem it appropriate to honor the former president as a good example for all and to confer this special award upon him."
Assoc. Prof. Dr. Kittichai Triratanasirichai said, "The concept of administration that I used all through the 8 years is one that we shared the same visions for the university, no matter from where we belonged, including external organizations. Impact could arise on all of these organizations and the community. We therefore listened to their opinions before drafting the strategic plans as the implementation plans for each year. All through the years, we continuously adjusted ourselves in order to meet with the current situations. We always listened to anyone's opinions."
"When we listened to opinions, it was necessary to have an efficient unit that could listen to and communicate between the two parties. That was why Division of Communications was established as a unit that publicizes news to different sectors related to things we were doing. What was reflected back would be useful for our improvements to meet the needs of all. The administration ran like this during the 8 years until we were accepted at a relatively high level. It could mark a point in KKU history to receive the first national quality award."
"On May 24, 2019 I had a chance to hear what other people said about Khon Kaen University. What they said was very positive and made me very happy. They said KKU is the biggest organization and the first of its kind in Thailand to receive the quality award. Those receiving this award before were an affiliated organization. I was very glad to see that KKU has reached this level. Moreover, there is the ranking by Time Higher Education that ranks us within the world's ranks of 101-200, Asia's 15-40, ASEAN's 3 – 9, and the first in Thailand."
"The success in these 8 years is because of every one. I thank all of you, not only the administrators. Only myself, I would not have been able to achieve at this level. I appreciate everyone's cooperation, participation and your agreement with the university's proceeding direction. Then today brings a great surprise to me to be awarded the "Honorary Administrator" prize. I'm really happy because during my term in office, I could not make a request for any award since there could be bias," Assoc. Prof. Dr. Kittichai Triratanasirichai ended.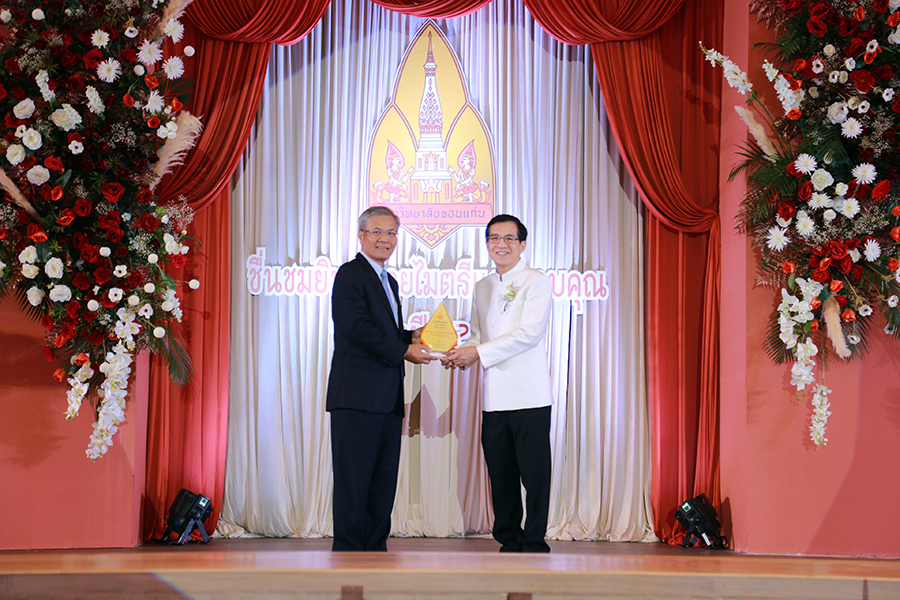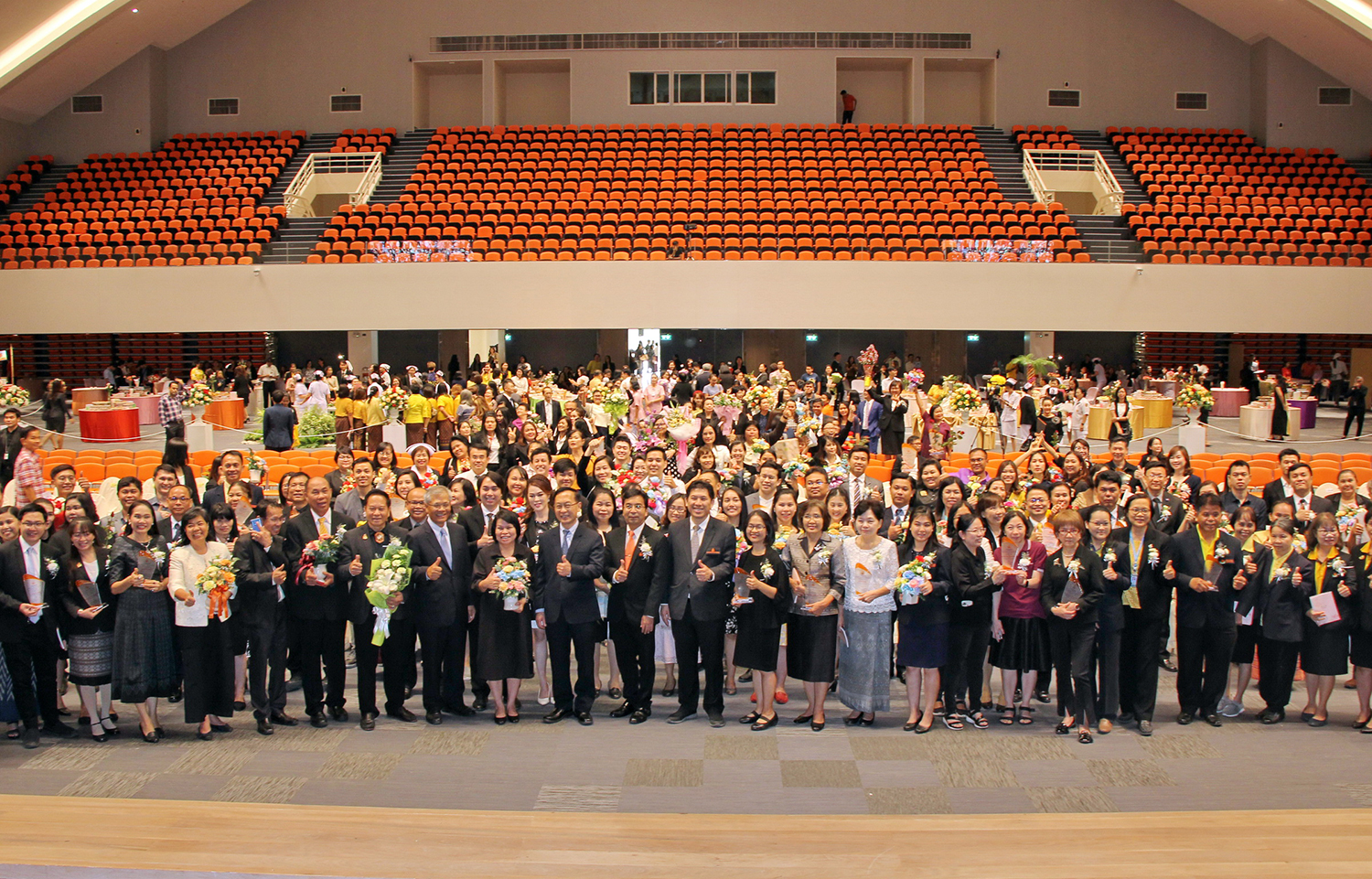 News: Watchara Noichompoo
Photos: Watchara Noichompoo / Attapon Hampong / Natthawut Petprapai